One of my goals of 2016 is to write and record a song each month. I'm going to put out my first song tomorrow on my Soundcloud. I've been writing songs and playing in bands since I learned how to play guitar when I was 12 years old. I BEGGED my parents for a long time until they finally took me to Guitar Center and bought me a $99 Squier Bullet. I started out by learning how to play my favorite songs from bands like Blink 182, MXPX, and New Found Glory. I would print out guitar tabs from the internet then sit down until I learned them all. To be honest…I should probably be a lot better since I've been playing for over 10 years! I never took lessons and still don't know how to read music…at times that really shows!
My first band was called "Passafist" which I started with a couple of my friends in Junior High. We never played a show or anything…we just told people we were in a band! I started my first real band in 9th grade called Everyday Destruction. It was basically just me playing guitar and screaming while my brother played drums. We kept that band going on for a while. We played lots of shows, recorded a full length album (plus a couple EP's) and had several line-up changes. Playing music is what brought me to Austin, TX and has always been the backbone of everything I do.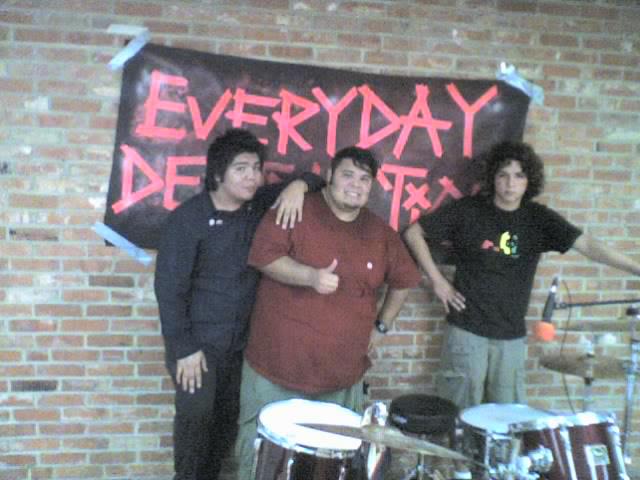 Photo: First Everyday Destruction Show in 2005
I've always had some kind of acoustic/solo project on the side. I feel like that's were I've written some my favorite songs. Even the punk rock songs I would write always started out on an acoustic guitar. This past month, I was inspired to start writing music like that again. I got an amazing guitar (Fender Jazzmaster) as a gift and I took it as a sign!
For these new songs…I want to pull from all my influnces over the years. I think challenging myself to crank out a song a month will help make that happen. I have a lot of ideas I'm working on already. Hopefully, you'll like at least one of the songs I put out!
The first song is called "Six Forty-Three" and will be up tomorrow morning here and on my Soundcloud!
– Mike