SXSW is here! It's my favorite time of year to live in Austin. It's unlike any other festival because your experience is what YOU make it. The are over 2,000 artists playing showcases all over the city. You have bands playing pop-up stages, record stores or even right in the street! And for the most part…you can see them all for free! I love that I usually get to see my favorites play at least 2 sets within the week.
Here are the Top 3 Artists I'm looking forward to seeing this year at SXSW 2016.
3. WAXAHATCHEE
Katie Crutchfield is a bad ass. She has been super busy on the road coming off the release of her latest album "Ivy Tripp". She's no stranger to SXSW. I got to see her last year at a record store performance and it's one of the most perfect sets I've ever experienced. She will be playing 5 sets in 4 days this year…I'm going to try and catch as many as I can!
Dates: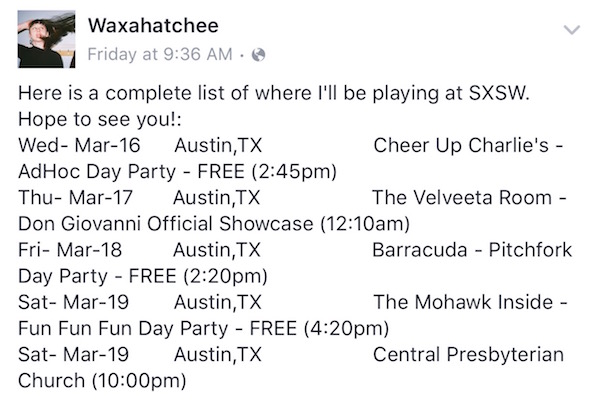 2. ALL DOGS
One of my new favorite bands! The had me from the first song on their new album "Kicking Everyday" which I listened to in my car for about a month straight. They're a unique mix of grungy, fuzzy guitars with charming pop vocals. Plus in the true spirit of SXSW…They will be playing 3 shows in 1 day! So, take your pick!
Additional: Thursday March 17th, 2016 – Topshelf Records Showcase @ The Grackle
1. JULIEN BAKER
"Sprained Ankle" was my favorite album last year. Her songs hit you right in the gut when you hear them and at moments you want to reach through the music and give Julien Baker a big ol' hug! I don't say this often…but I get CHILLS from videos of Baker playing live. She has such a POWERFUL voice. It's insane! One of the best new artists out there.
Connect with Mike: